Artcade Shows How to Really Have Fun During a Storm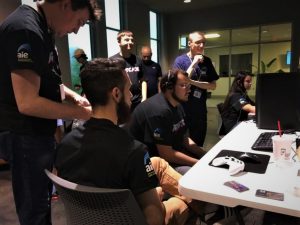 The Academy of Interactive Entertainment in Lafayette once again hosted Artcade!
The fifth annual Artcade event took place on May 11th with a wide array of local game developers, artists, and film exhibitors. However, this year the event location was not at the Lafayette Science Museum where it's been previously held. This year, Artcade was hosted right here at AIE Lafayette's campus.
The event was held from 3pm-7pm, and as always, it was dedicated to promoting game development, independent film, music, and art that is unique to Acadiana.
In attendance was various local talent and industry professionals, such as Beau Perschall from TurboSquid Inc., comic book artist and writer Rob Guillory, Jason Bienvenu from Spero Studios, as well as our own 3D Animation & VFX for Film instructor, Adam Folse, from Wisp Entertainment.
AIE Lafayette 2nd year students also had the chance to show off the fruits of their labors by having their final game projects on display and open for the public to experience. This included AIE's 1st year Game Art & Animation student teams Ghost Data Media and Digital Twins Studios, who are also located inside the LITE Center.
Despite the torrential downpour, attendance was still at an all-time high. We also added something new this year to attract first time attendees: local cuisine by way of a Food Truck Roundup! A special thanks our friends at Rise & Grind Coffee, for keeping the staff caffeinated during the event.
We also hosted a game development panel this year: Not Playing Around, with Megan Hourcade (2D Art/UI Designer), Beau Pershall (3D Animation Industry Veteran, VP of Business Development at Turbosquid) and Adam Folse (AIE Lafayette 3D Animation & VFX Professor, Co-Founder Wisp Entertainment).
Artcade returns next spring, so be sure to stay tuned for updates on Artcade, as well as other future events.
---
Ross Thibodeaux - Communications Coordinator - Lafayette Campus
Ross Thibodeaux is part of the admissions team from the Lafayette chapter at the Academy of Interactive Entertainment. During his leisure time, Ross enjoys movie marathons and family barbecues. He is also an established comic book writer, with writing credits for Mighty Morphin Power Rangers and WWE comics.